There are several reasons for removing smoke odor from an apartment.  You could be covering the odor up for a visitor or just removing odors from a previous tenant.  Either way, there exist individual benefits for masking this odor and adding a bit of freshness to your living space.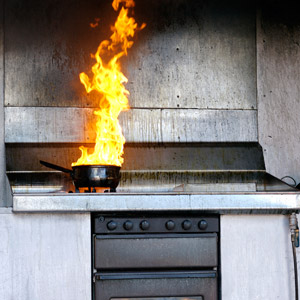 Fortunately, there are several household solutions for removing this this smokey aroma, and regaining control of the smells within your apartment.  In this guide, there are a range of tips offered to further your odds of of eliminating your cigarette inspired odor.
Smoke Surface Solution
1

Bleach

Develop a cleaning solution by mixing 1 part bleach with 6 part water within a large bucket.  Proceed to apply this solution to all of the flat surfaces within the house, including the walls, ceiling and floors.  Make sure that windows are open during the process to allow fresh air to sweep through and carry much of the moisture and unwanted smoke odors out.
Smoke Carpet Solutions
1

Vinegar + Baking Soda

Typically, it can be very challenging to remove smoke odors from carpeting.   The smoke can get into the fiber and deep down in the underlying padding which makes it very difficult to treat.  Your best chance stands in making a solution of vinegar, baking soda and water.  Create a mixture of one part baking soda, two parts white vinegar and ten parts water.  Pour content within a spray bottle, and proceed to thoroughly spray down the carpets within the house.  You may need to refill the bottle several times to make sure that the carpet gets moist enough to all for this solution to soak in.  Next, open all of the window within your house to allow for this solution to air dry.
2

Baking Soda

If you were unable to removal all of the odor with baking soda and vinegar, you can try sprinkling high quantities of backing soda over the entire surface of the carpeting.  Be sure tho let this baking soda sit within the carpet between 24-48 hours to allow time for the powder to absorbe the remaining smoke smells.  After a minimum of a day, you can return to vacuum this high quantity of baking soda up and out of the carpet.  After this, your carpeting should be left smelling odor-free.
Smoke Fabric Solutions
1

Wash Linens

Any linens within your apartment should be placed through detergent wash to get out smokey odors.  Be sure to wash everything you can fit within your washing machine, including the curtains, chair cushions, sheets, pillows, sofa covers, clothing in your closet.
2

Steam Cleaner

Large upholstery couches and recliners require a steam cleaner due to their large size.  Pour extra quantities of vinegar in with the steam cleaning detergent when using the cleaning hose to neutralize odors within these pieces of furniture.  Large items like couches may take a long will to dry out, so it is recommended that you leave the window open while the furniture is drying out.
[contact]