Anyone who has worked within the kitchen has experience this problem.  Upon cutting into an onion, the potent spray works it's way into your hands, and leaves a long-lasting unwanted aroma.  The smell  resiliently lasts through several soapy hand scrubs, making you question if it will ever go away.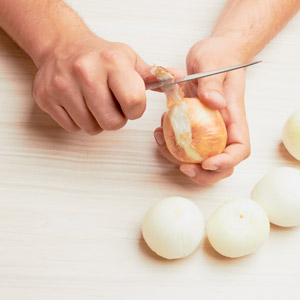 While getting onion odor off of your hands is not an easy task, it can be accomplished by employing some of the solutions offered within this guide.  By following the below tips, you will increase your odds of eliminating your onion-based odor.
Smell Removal Solutions
1

Cold Water

Be sure that when you do wash your hands you do so with cold water.  Washing your hands with warm water has the effect of opening your pores and allowing the onion residue to sink deeper within your you skin.
2

Stainless Steel
Place a any type of stainless steel utensil in your hands so that the maximum amount of your fingers are touching it.  Then place hands with utensil under water for 60 seconds to remove any lingering onion odor.
3

Salt

Pour a few tea spoons worth of kitchen salt within your hands, and place under warm running water.  Rub hands thoroughly for an entire minute, and the smell should be swept away.  Using warm water is an exception, as you want the salt to go deep within your pores to kill off any onion smelling odors.
4

Toothpaste
Squeeze toothpaste within your hands and rub the substance through your fingers and palms under cold running water.  If smell remains after the first time, squeeze a bit more toothpaste into palms and repeat.
5

Coffee Grounds

Pour fresh coffee ground within hands and rub the substance through hands intensely for 60 second under the faucet.  This has the effect of removing the onion smell and replace it with the aroma of fresh made coffee.
6

Tomato Juice

Open a can of tomato juice and pour the contents within a bowl or tray large enough to stick your hands in.  You can also add a bit of hot water to this mix to make sure that your pores will open to let the tomato juice in.  Place hands within tomato juice for 3-5 minutes, before washing this substance off with dish detergent under warm water.
7

Lemon Juice

Squeeze lemon juice withing a bowl or try a large enough to place hands in.  Add some water to ensure that the container is half way filled with contents, then place hands within the substance for 2-4 minutes.  The citric acid will work to neutralize the onion's odor and will leave your hands smelling lemon fresh.
8

Peanut Butter
The chemical composition of peanut butter works in covering up several smoke and organic odors.  Apply peanut butter to palms and work the substance through fingers and into palms for 2-3 minutes.  Next, run your hands under water and wash hands with dish detergent to remove all traces of peanut butter.
9

Olive Oil

The oil within olive oil works to breakdown the smells left behind by onions.  By pouring some of this oil within your palms and rubbing through hands you will be able to neutralize your onion-based odor.   To remove olive oil from hands, you can use dish detergent to cut  through the oils leaving your hands smelling fresh.

[contact]