Once the deed is done, this nighttime activity usually remains a secret between the participants.  People like to push limits, but they also want to show some discretion.  This is why sex smell developing within your car can be so distressing.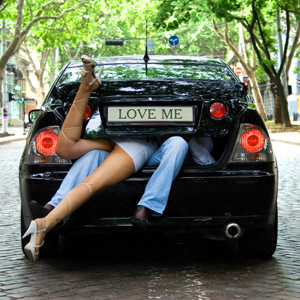 Fortunately, there exist solutions for deodorizing your car, and removing your personal brand of sex smell.  By following the below tips, you will better your chance of wiping out this odor.


Preventative Sexual Smell Solutions
1

Blankets

If it is foreseeable, make sure to pack blankets to place over the upholstery before getting busy.  This will  catch much of the fluids and steam produced during sex.  Blankets can easily be washed, but a cars interior lining is not an easy task.
2

Windows Cracked
Keeping windows cracked during sex gives the odor a place to escape.  If the windows are closed, it can pressurize and create a heightened off-putting odor within your automobile.
Sexual Smell Removal Solutions
1

Windows Open

After the sexual deed is done, be sure to open the windows as soon as possible.  Doing this will allow fresh air to sweep in and carry much of the musty odor out of the car.
2

Clean Up

Take any tissues or condoms that contain sexual fluids and place them in the trash outside the car as soon as possible.  You do not want these substances to evaporate within the automobile, as they will cake the interior with a foul odor.
3

Baking Soda

Baking soda can work wonders at absorbing unpleasant odors.  If you can locate the spot where the majority of sex odor is coming from, sprinkle heavy amounts of baking soda over the location.  Let the powder sit for 2-3 days, then return to vacuum the powder up.
4

Vodka

Fill a spray bottle partially full with this party drink, and spray heavily throughout the interior of the automobile.  Due to the alcohol content, the solution will evaporate quickly by leaving the windows open.
5

Vinegar

Pour vinegar within a spray bottle, and use the bottle within the interior of the car to ensure the interior fiber is moistened.  For quick drying, leave windows open for fresh air to help with evaporation.
6

Febreze

The product can work miracles in pulling out odors from car carpeting and lining.  Give your car an intensive spray down and leave window open for quick drying.

[contact]