Lets face it, we don't want to disclose everything on a date, and may wish to let people know that we smoke on our own time and terms. When going in for a kiss, the last thing we want is for a date to find out first hand of our extracurricular actives.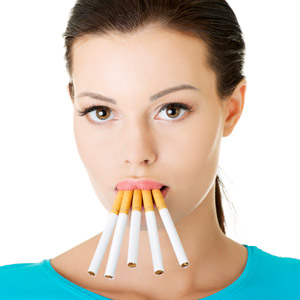 Fortunately, there are several things that can be done to camouflage smoking habits to significant others.  In this guide, a wide range of tips are provided to remove smokers breathe and leave the mouth smelling fresh for the rest of the day.
Smell Removal Solutions
1

Mouth Wash

Using mouthwash is a sure fire way to wipe out and distort the smells of the cigarette smoke.  Before leaving the house be sure to gargle and swish this substance for at least 30 seconds before spiting it out within the sink.
2

Hydrogen Peroxide

This has long been a cheap and effective alternative to mouth wash.  Hydrogen peroxide cuts though all odors and bacteria in your mouth, and leaves freshness behind.  You may want to mix this solution in equal part with water as it can be rather powerful on it's own.
3

Water + Baking Soda

Mix one part baking soda with two parts water to produce this homemade mouth wash.  Baking soda works wonders in absorbing a number of odors, and is excellent at eliminating smokers breathe.
4

Apple Cider Vinegar

Apple cider vinegar is used by many naturalists as a substitute mouth wash.  This compound is effective at breaking down odor producing bacteria within the mouth and freshening ones breathe.  Gargle and swish within mouth as you would with a mouth wash, before spitting out within the sink.
5

Apple Cider Vinegar + Baking Soda

As a more powerful combination, you can combine apple cider vinegar with baking soda to produce powerful mouth wash.  The acid within the vinegar will cut through the bacteria while the baking soda will work to absorb any odors. Add 3 parts vinegar with 1 part baking soda to gargle and swish in mouth for 30 seconds, before spiting out within the sink.
6

Ginger Root

Crewing ginger root can work miracles in masking the smell of smoke.  Similarly, you can crew and consume natural ginger candies for the same effect.
7

Apple

Eating an apple does more than keeping the doctor away.  By eating an apple after smoking, the fruit will work to cleanse the mouth and absorb much to the smoke residue.
8

Fresh Squeezed Lemon Juice

Lemon juice is very effective at slicing through the stench of smoke within your mouth.  The natural citric acids found within the fruit cleanse the mouth and leaves it smelling fresh.
9

Milk

This drink covers smokey odors and flattens the sharp stench of cigarettes that can be found within smoker's breathes.  Drinking a cup of milk is often all that is require to remove the odor from one's mouth.
[contact]