When vomit makes it's way within the couch there is usually a lengthy story to accompany it. Once cleaned, the acidic stench can remain within the fiber cause much discomfort during future use.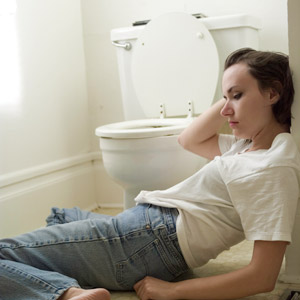 Fortunately, there are several things that can be done to remove vomit odor from the couch and return it to normal.  By following the below steps you can be assured that the odorous residues will be wiped out for good to leave the couch smelling fresh.

Vomit Smell Removal Solutions
1

Place Cushions Outside

If the vomit has only affected the cushion you will want to carefully remove them from the couch and place them on a clean surface outside.  This will ensure that any unwelcome residues do not make their way within the couch's fiber.  The following steps are suggested whether you are cleaning the cushion outside or areas of the couch frame indoors.
2

Moisten & Blot Away

Pouring water on the affected area will help to loosen the stomach mater from the cushioning.  Once the area has been moistened, you can then blot dry the area with a dry hand towel.  For best result, repeat this step two to three time to draw out as much remaining vomit residues as possible.
3

Use Shampoo & Hot Water

Using a concoction of one teaspoon of shampoo to three cups of hot water will help to further loosen any remaining residues and draw them out of the upholstery and couch cushioning.  Similarly pour small portions of this mixture on the affected areas and proceed to blot dry the area to draw the moisture out.
4

Harness the Enzymes

Using an enzyme cleaner is the best solution to quickly and permanently wipeout remaining acidic odors. This type of cleaning solution can be purchased at pet stores and most large super markets.  The active enzymes within the solution go to work in eating through odorous residues and organic materials.  Once you have performed the above steps, proceed to pour enzyme cleaner on the affected areas of the couch and provide 24 hours for the solution to work it's magic.  Once a day has passed, blot dry the areas of application and provide 24-48 for them to air dry. When treating a leather couch, be absolutely sure not to use an enzyme cleaner. This substance can cause a negative reaction when applied to this natural fiber.
5

Solar Power
After enzyme solution has been applied, placing the affected cushions or couch frame outside in direct sunlight can be a helpful deodorizing step.  Besides drying out the cushions, the UV rays, fresh air and open space will all help to further deodorize upholstery and underlying cushioning.
6

Pour In Baking Soda

As a final step, baking soda can be applied within the cover of the couch cushions.  This household powder will go to work in absorbing any remaining smelly residues caught between the cushion and it's cover.

[contact]