It's characteristic sharp smell seems to cut through fresh air and leave only pungent fumes behind.  Cooping with the smell of vomit is never an easy task.  However, once vomit has been introduced to clothing, it can be a challenging stench to get away from.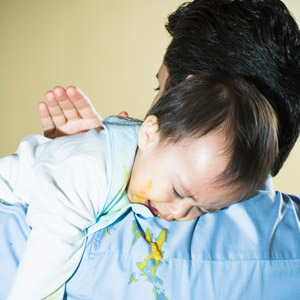 In this guide, there will be a range of unconventional household solutions offered for reducing this odor left within your clothing.  By following the below tips, you will increase your odds of eliminating this acidic musk, and add a bit of freshness back into your outfit.
Vomit Smell Removal Solutions
1

Wash Again & Again

Vomit odor can often become so infused within clothing fiber that it requires multiple rinse and spins in order to remove the odor.  If the stink is still on the clothes after the first wash,  proceed to wash it a second or third time.
2

Air Dry
Should your wash and dry cycle not eliminate the vomit smell, you can better your chance of beating it by washing the clothing and air drying it outside.  Though it may sound strange, the air dry allows breeze to sweep much of the odor away.
3

Sun
Just as air dry has it's own natural remedies for smell removal, placing clothing in direct sunlight also has many benefits in wiping out unwanted aroma.
4

Baking Soda

Baking soda has many qualities that work to neutralize odors and leave your laundry smelling fresh.  Within your first washing cycle, add a 1/2 cup of baking soda in addition to your regular detergent.
5

Dish Detergent

Among mothers, many know of the qualities that dish detergent holds for wiping out odors created by baby vomit.  To use this household solution, place your clothing within the sink and hand wash clothing with a half cup of detergent.
6

Hydrogen Peroxide

This solution is often used in cleaning fabric and is the primary ingredient in Oxyclean.  It works wondering in cleaning and is extremely effective at wiping out odors.  To use hydrogen peroxide, you will need to add a half cup of hydrogen peroxide per gallon of water.  Dunk your clothing, and work the solution into fiber for several minutes before rinsing out.
7

Vodka Spray

This popular drink has been used for several generations as a odor reduction remedy.  Vodka is one of the only alcohols that drys away odorless.  To use this solution, simply moisten area of clothing affected by vomit odor and let it naturally evaporate with the unwanted aroma.
8

Activated Charcoal

As a solution for removing odor without the use of water, activated charcoal works at slowly leaching wanted aromas from anything within close proximity.  This use this remedy, place activated charcoal into two nylon leggings and place it affected clothing within trash bag.  Seal trash bag and let sit for 5-7 days before removing freshened clothing.
9

Borax

This chemical compound also works wonders in extracting odors from clothing without water. To use this solution, place affected clothing into a trash bag and pour in 1/2 cup of borax.  Seal bag and wait 5-7 days before opening and shaking off remaining borax.
[contact]