We may enjoy cooking fish, but we do not want these odors following us the entire day.  Once fish odor gets within your clothing the slimy sharp odor can be incredibly difficult to remove from the fabric.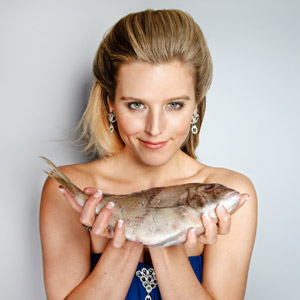 In this guide, there will be a range of solutions provide for removing fish odor from clothing.  By following the below tips, you will be able to increase your odds of eliminating your fish funk.
Fish Smell Removal Solutions
1

Rinse and Repeat

Fish aromas are often difficult to remove from clothing with just one wash.  If the smell remains after the first wash, try washing it a second or third time.
2

Air + Sun Dry

Hanging your clothes outside within the sun to air dry can work wonders for removing odors from clothing.  The natural solar rays and wind work to neutralize and carry off the smell.
3

Baking Soda

Baking soda is one of the best tools in removing fish based odors.  If you know that your clothes will need an additional boost to remove odor, add a 1/2 cup of baking soda to your wash load along with your normal laundry detergent.
4

Dish Detergent

Dish detergent contains unique compounds that help in breaking down organic fish residue.  Hand wash your fish infused clothing with this formula int the sink.  Finish by placing clothing within the washing machine for an entire cycle.
5

Hydrogen Peroxide

This compound works in breaking down bacteria and organics, and can work miracles with eliminating fish odors within your clothing.  Simply add one cup of hydrogen peroxide with your wash along with clothing detergent to boot the residual odor out of your clothing.
6

Borax

Borax is a household cleaning ingredient used within a wide range of products.  Add a 1/2 cup of borax to you normal wash load along side your normal detergent.
7

Vodka Spray

This popular drink has been used for several generations as a odor reduction remedy.  Vodka works by neutralizing and carrying the odor off as the solution evaporates from the clothing. Find a large bowl and pour 1 part vodka for every 2 parts water.  Dunk clothing into mixture and work within fiber of clothing.  Ring out and hang clothing items outside on the clothing line to air dry.
[contact]