If cats had a second home, it would undoubtedly be on the couch.  Unfortunately, when our feline friends turn into couch potatoes, they fail to make their way to the litter box.  The sour stench of the kitty urine is often is our first queue of the incident, and we wonder how we will even return of couch to it's previous condition.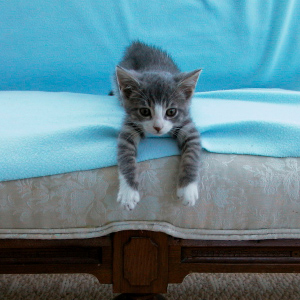 In this guide, there will be a several household solutions for cleaning the up this problem and removing residual urine odor.  By following the many tips located below, you will increase your odds of relieving you couch-based feline urine funk.
Suggested Deodorizing Steps
The following steps are important in removing the urine from the couch and returning the affected cushions to normal.
1

Step 1: Remove Cushion

As a first step, the cushion must be removed from the couch.  If the cushion is not removed it time, there is a chance that the urine can drip down into the cracks and be much more challenging to treat.
2

Step 2: Press Spot

Begin blotting the location of the urine with a fresh cloth to absorb the the unwanted moisture.  Be sure to apply your entire weight behind the cloth in order to draw out as much urine as possible from the cushion.
3

Step 3: Warm Water

Measure a half gallon of warm water and pour half of the liquid on the spot of the accident.  Blot this location up, and then pour the second half of the water on the spot and repeat.  This will help in diluting the amount of urine which is left within the cushion.
4

Step 4: Enzyme Solution

This formula works wonders at combating the ammonia.  The active enzymes within the product will eat through the remaining cat urine and leave the cushion smelling fresh.  Pour this solution on the affected cushion and let it saturate deep within the padding for 24 hours.
5

Step 5: Sun Dry on Grass

After a day has passed, blot dry much of the moisture from the cushion and place it outside within the sun to air dry.  The UV rays, fresh air and chlorophyl from the grass has will also help in further neutralizing the odors.
6

Step 6: Baking Soda

As one final preventative action, pour baking soda within the the lining of the cushion.  This will continue to ensure that the smell does not return, even after it has become in use.
Alternative to Enzyme Solution
When enzyme cleaning solution is not accessible, vinegar can be used as a handy substitute for deodorizing your cat's urine accidents.
A

White Vinegar

The chemicals within vinegar naturally combat the ammonia within kitty urine.  Mix a formula of one part white vinegar and and two parts water and pour on the location of the urine.  Allow this substance to sit for 2-3 hours before returning to blot the moisture from the cushion.  Once the vinegar completely dries, all odors should be removed.

[contact]